Favorite Links
Favorite Links
Below is just a sampling of some of the wonderful web and print magazines available in the English language.
One of my very favorite haiga sites. Broken down into traditional, contemporary, collaborative, family, and experimental haiga, this site offers a wide spectrum of exquisite art/haiku pairings. Fast loading and extensive in its range.
An excellent in-print and on-line magazine of haiku, tanka, and related verse. Denis Garrison, the editor, explores the far reaches of new experimental forms of Asian-inspired verse as well as presenting some of the best haiku and tanka being produced today. The print version is a beautiful, perfect-bound monstrosity, in luxurous large print.
Possibly the very best on-line haiku, senryu, tanka, haiga, and haibun magazines around! Simply haiku contains scholarly and well-researched articles, interviews and on-going columns. The magazine is wide ranging and highly aesthetic, containing some of the hottest new writers and artists working in English language Asian verse and art.
For peace-poets who believe we can change the world through changing our consicousness (And our consciences!) This website is filled with thousands of peace poems written by people of all ages, from countries spread throughout the globe. I hope you will soon add your voice to theirs! You'd be surprised at how many of your well-know poet friends are showing up there!!
Frogpond is an official publication of The Haiku Society of America. I think of it as HSA's flagship. Frogpond strives to publish the best in contemporary English-language haiku and senryu, linked forms including sequences, renku, rengay and haibun, essays and articles on these forms, and book reviews. Edited by John Stevenson, frogpond is published three times a year.
Modern Haiku is edited by Lee Gurga. Modern Haiku is an independent journal of haiku and haiku studies. Striving and succeeding to be a scholarly magazine, Modern Haiku contains very informative and in-depth articles.
Heron's Nest is managed by Christopher Herold and is unique among haiku journals. The web version is quarterly, with a print version coming out each March. The team of editors collaborate on selecting the very best from among a huge volume of submissions.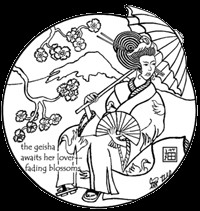 Bottlerockets is owned and edited by Stanford M Forrester. More open, fresh, and creative than many of today's English language haiku journals, bottlerockets is one of the best.
Nisqually Delta Review is an excellent bi-annual magazine of haiku, tanka, free verse, haiga, and tanga. This magazine is owned and edited by myself, CarrieAnn Thunell
Have Fun!